Global Bin Builders
Grain Bin Contractors Trusted Across the United States
Global Bin Builders is a leading commercial grain bin construction company. Our team specializes in erecting and repairing grain bins and silos around the country. We thrive in completing difficult projects, and we built the world's largest steel grain bin in Mason City, Iowa.
We're known for our efficient work, our creativity, and our high-quality results. Our team takes safety seriously, and our workers are able to meet strict safety requirements on the work site. You won't find a more responsive contractor, and we'll work nights, weekends, and holidays if needed to get the job done in time to meet your scheduling demands.
More About Global Bin Builders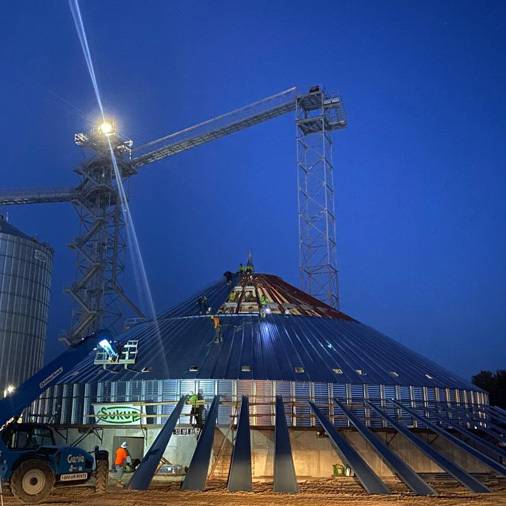 Contact Us for a Free Consultation
If you're looking for grain bin installation or repair services, we want to talk with you! We're large enough to serve you, but we're small enough to know you by name. Give us a call today!
Have an Upcoming Project?
Our Grain Bin Erection and Repair Services
Commercial Grain Bin Construction
At Global Bin Builders, we're experts in building large grain bins and commercial steel tanks. We've done extensive work for companies like Cargill and Fagen Inc., where our crews adhere to the highest safety standards.
Farm Grain Bin Construction
We build hundreds of farm bins every year. Our proven results keep customers returning year after year, and our company is growing to fit the increasing demand for quality farm bin construction.
Grain Bin & Silo Repair
When something breaks or severe weather hits, Global Bin Builders can quickly restore your bins to working status. Our unique "repair in the air" technique for grain bin roof replacement will save you both time and money.
Crane Rental
We own several high-quality lattice boom cranes. If you're looking to rent a crane on a monthly basis, give us a call!
Learn More About Our Services
Builders of the
World's Largest Grain Bin
Big enough to hold 2.2 million bushels, the world's largest grain bin towers over Golden Grain Energy in Mason City, Iowa. Our crews took on the challenge and constructed the bin in 2021.
Learn More About Our Record-Breaking Project